Setup: It is best to setup on a hill over looking large field with the wind blowing in the direction that you want the coyote to approach from. Coyote's will normally circle around so that they can wind you.
Gun: There is no such thing as a perfect Coyote gun. Gun selection varies greatly on personaly opinion and terrain. Also remember that unless you want to sell the fur there is no such thing as to much gun. I use a 30-06 wtih 125 grain bullets and it works great.
Caller: I use a Johnny Stewart MR16. It has worked very well for me. If you prefere no tapes then the FoxPro digital caller is very good.
Electronic callers are a common choice for beginers and experts alike, I prefere electronic because you get more distance and it will never hit a wrong note.
Camo: Some people think that camo is not necasary when hunting coyotes. I am not one of them. In my opinion camo is extremley helpful. It gives you the abbility to call the coyotes in much closer then you would without it.
Make sure that you cover your hands and face esspecially if you tend to move these around alot while hunting.
Decoy: I place my Feather Flex rabbit decoy about 20yds in front of me. Make sure that it has the ability to be blown by the wind. Coyotes will be attracted to this movement.
Decoys will work much better if you use rabbit distress calls with it.
Range: Coyotes have spread all over the US but the highest populations are in the midwest.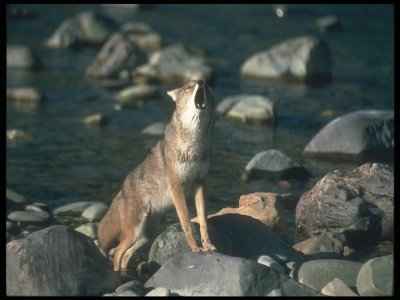 More hunting tips
When hunting coyotes watch the trails and roads. Coyotes prefere to approach from the easist and quitest way possible.
When you call watch the deer. They are very good indicators that a coyote is coming in.
Also it is very helpfull to hunt with a partner. Their are many different techniques for doing this. My favorite is sitting back to back. This way you can see 360 degress without having to move as much and you can talk while waiting for Ole'Wiley to come in.
Always have your gun in a position where you can shoot it without having to move a lot. Many times coyotes will sneak in and be very close before you see them so you want to be able to shoot without having to move a lot.
Use a Bipod. You can either buy or make one of these. It gives you a steady rest for those shots where you can't rest your gun on anything else. My bipod is 36 inches tall and has a strap so that I can sling it across your back.